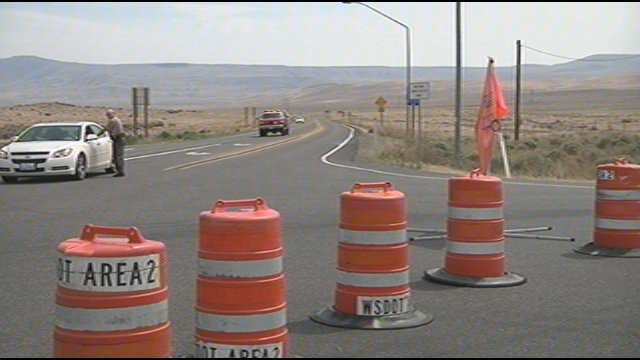 UPDATE
The State Department of Transportation says State Route 241 and 24 are now open to traffic after a wildfire shut down the two highways this afternoon.
A spokesperson says an estimated 50% of the blaze is contained, but crews will be working through the night to maintain the lines and to watch for incoming storms.
About 3,000 acres have burned on Bureau of Land Management property. Firefighters from multiple agencies are battling the blaze.
------------------------------------------------------------
HIGHWAY 241, Wash. - A brush fire sparked by a motorcycle accident, which injured two people, closed SR 241 Thursday afternoon.
Drivers were being re-routed and smoke was visible over the hillside.
"I do not know the size of the fire but I see many fire companies involved in fighting it," said Benton County Deputy Brad Klippert. "So, it must be increasing in size. It's a significant fire if they're going to shut down traffic both ways."
The fire began about 8 miles from where our video was shot.
Washington State Patrol said the two riding the motorcycle lost control and both of them were ejected. They were taken to a local hospital, then one of them to Harborview Medical Center in Seattle.