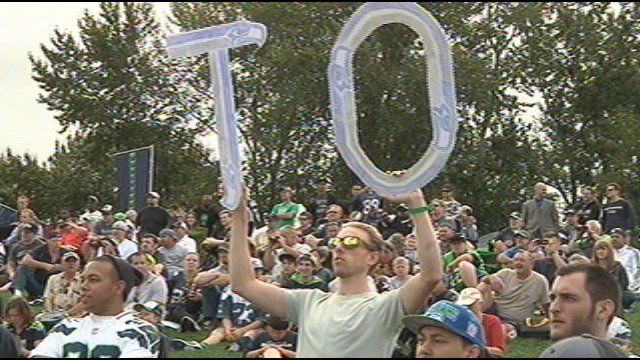 RENTON, Wash. -- Wednesday Terrell Owens practiced with the Seattle Seahawks for the first time since signing a one year contract on Monday. Wearing number ten, Owens got a lot of reps in and the fans really loved seeing him at practice. Owens says he looks forward to competing again.
"I'm not really at my best right now, but it's all about competition. I'm very competitive. So as the weeks go on, it's going to be that way throughout the course of the season. I welcome the challenge. I look forward to it. It won't be long before I get everything down and hit the field running without doing a whole lot of thinking," Owens said.
"Everyone on the team has watched him. Everyone knows his talent level and what he does. So he's here to make the team better and we're excited," added Matt Flynn, Seahawks' quarterback.
Owens is set to face real NFL competition for the first time since 2010 when he was with the Cincinnati Bengals. This past year he spent a few games with the Allen Wranglers of the Indoor Football League. Owens says he is ready to compete again with the big boys.