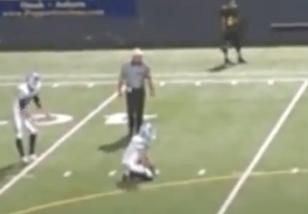 PHOTO & VIDEO: Youtube/Nathan Brown
SPOKANE, Wash. - Central Valley High School Kicker Austin Rehkow did something Thursday night even most NFL kickers can't do: he kicked a 67-yard field goal.
The longest kick in NFL history is 63 yards. It has been tied several times in NFL history, most recently this year by veteran 49ers kicker David Akers.
On Thursday, Rehkow set up for an improbable 67-yard field to tie the game and send it into overtime against Shadle Park. Luckily one fan in the stands was rolling as Rehkow launched the ball 67-yards down the field, just clearing the uprights. The field goal broke the Washington State High School record by 5 yards and is believed to have tied the second longest in national high school history.
Central Valley went on to win the game 62-55.