UPDATE: Man With A Gun Forces Finch Elementary School Into Lock Down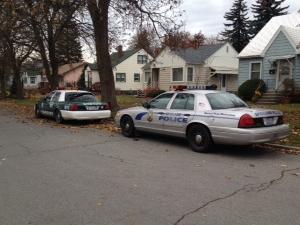 UPDATE: Police are searching for two men that may be armed and dangerous. They're identified as 25-year-old Seth Stensgar and 28-year-old Grant Brough.

Here's what we know: 6 weapons were stolen in a residential burglary Wednesday night in the 2600 block of Park Rd.
On Thursday morning police responded to two men prowling in the Trent and Park area. When they arrived Stensgar drove off and police detained the other person (name unknown). He gave up information that he, Stensgar, and Brough were all allegedly involved in last night's burglary.
Police went to Brough's home in the Audubon Park area. As they arrived he walked out of the house, saw them and drove off in his car leading to a police pursuit. He crashed his car into a fence and took off on foot. Police started searching for him on foot but couldn't find him. Neighbors say he had a gun while running through the neighborhood
The vehicle Stensgar is driving is described as a newer gray Nissan Altima with Montana plates
Brough was wearing a gray hoodie sweatshirt.

UPDATE: The lock down is over. At this hour we're awaiting a press release from law enforcement.
PREVIOUS STORY:

SPOKANE, Wash. - We have confirmed that Finch Elementary School is on lock down. According to the school district a suspicious man was seen with a gun in the area. Police are investigating as we speak so stay tuned for the most up to date information. We will also post updates on our Facebook and Twitter feed.