First Time Candidate Civic Training Comes to Yakima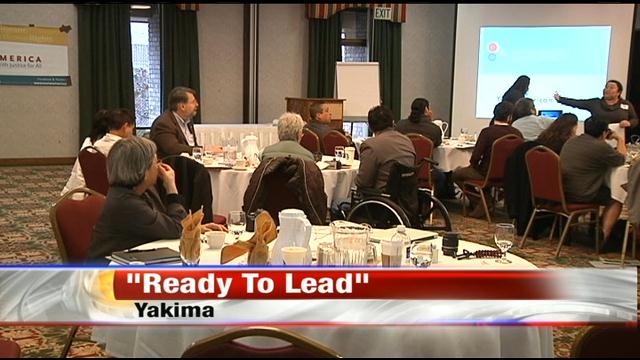 YAKIMA, Wash.--The first program of its kind in Washington State is being offered here in Yakima.

It's called "Ready To Lead" and it trains and recruits first and second generation immigrants. By the end of the course, they'll have the leadership skills they need to not only make a difference in the local community but also in the Capitol.

On Saturday, some people came in busses from Seattle and others drove their own cars down the street. But they all ended up in the same room to talk about one thing--mixing up the leadership in Washington State.

"We have a very diverse demographic in our state, and we have the least diverse legislature," said My Tam Nguyen.

"I think it would be absolutely amazing to have more women in leadership roles in our community," said Rosalinda Mendoza. "I think that's really important."

This is the first non-partisan immigrant candidate training program to be held in the state and participants were just happy to be a part of it.


"I know that I want to serve my community, and it's very rare that you see this type of training here in Yakima," said Mendoza. "For that reason I wanted to participate."

"We come from really rich family traditions and community kind of gatherings and values, and I feel that that's really truly reflective of the Washington I live in," said Nguyen. "It really feels like home being with this group of people today."

Participants said after the weekend, they hope to see some of their peers become a part of the State Legislature and represent the immigrant community in the Yakima Valley.

"Our rich immigrant history has made Yakima the top producer of cherries, apples and hops, and so it's our livelihood," said Mendoza.

"Know the assets of this community and who would know that better than someone who's worked from the ground up, to the fields to the State Legislature," said Nguyen.

The candidate training will continue Sunday. Participants will have the opportunity to meet more civic leaders and learn from their experiences.