More Arrests in Yakima River Canyon Murders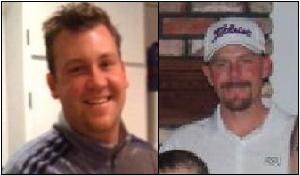 YAKIMA, Wash.-- New developments in the murders of two men dumped in the Yakima River Canyon. Police arrested two more suspects this weekend in connection with the deaths of Ryan Pederson, 35, and Michael Eby, 36.

Police say Marco Gallegos, 22, and Heriberto Villa, 23, were involved in the slayings.

Court documents show that a suspect told police Gallegos and Villa were there when the men were killed.

Arrest affidavits say Eby was there to meet Jose Pineda, when the two got into a fight. The report says at that point, Gallegos shot Eby multiple times, killing him.

Police say the other victim, Ryan Pederson, happened to be with Eby that day and was killed after Eby was shot to death.

"Pederson was more likely the guy that was just hanging out with Eby, they were friends. And I think he, sadly enough, found himself in the wrong place at the wrong time," Capt. Rod Light said.

These latest arrests bring the suspect count to four people. Police say they now believe they have everyone involved in custody.

All four face two counts of First Degree Murder, among other charges.

As far as motive, police believe drugs and money were involved but they're still working out those details.
PICTURED: Victims, Ryan Pederson and Michael Eby.
----------------------------------------------------------------------------------------

Previous Coverage:
YAKIMA, Wash.-- Police make a second arrest in a December double murder. It's been a quiet case until this week and now detectives believe they have all the suspects in custody. Friday, police arrested Jose Alfonso Pineda, 23, at a motel in Des Moines, Washington. Pineda is believed to have been the other person at the home of Troy Whalen, 41, the day Michael Eby and Ryan Pederson were murdered. Officers arrested Whalen Wednesday and say Eby was killed at the house. Police actually interviewed Pineda back in December, but didn't have enough evidence to arrest him. Court documents say Pineda told police he was supposed to meet up with Eby the day he went missing, but Eby never showed so Pineda said he went home. After police pulled cell phone information though they discovered that was lie and Pineda was in the area of Whalen's home that day. "There's some evidence that's leading to the fact that it's very likely drugs and money are involved in this situation which led up to the homicide," said Capt. Rod Light with YPD. In court documents, Whalen said he was there when Eby was murdered at his house and helped ditch both bodies in the Yakima River Canyon, but he says he didn't kill anyone. Yakima detectives were in Des Moines Friday, and will bring Pineda back to Yakima County face two counts of First Degree Murder.
----------------------------------------------------------------------------------------

YAKIMA, Wash.-- A Yakima man faces murder charges in connection with the deaths of two men last month. Ryan Pederson, 35, and Michael Eby, 37, were both found shot to death in an abandoned car in the Yakima River Canyon in December. Until Thursday, local law enforcement had been tight lipped about the double homicide investigation. But Wednesday night a break in the case led to an arrest of a Yakima man who, in court documents, admitted to being there when Michael Eby was murdered. Troy Whalen, 41, made his first appearance in front of a Yakima County judge Thursday to face two counts of First Degree Murder for his part in the deaths of Pederson and Eby. "There's speculation that it could be over drugs and money, but again, we're still trying to nail that piece down conclusively," said Capt. Rod Light with YPD. Court documents paint a gruesome picture of the murders. Detectives found evidence of the slayings while serving an unrelated search warrant at Whalen's home. While there, they found blood stains, and even bullets matching those used in the killings. Also in those court papers, Whalen admitting he was there when Eby was killed inside his home. Shocking revelations to Whalen's brother who says he couldn't imagine his little brother being involved in something like this. "I'm dumb founded. My little brother's never hurt anybody, never. I mean he's never been in a fight. And that's no lie," said Chuck Whalen. Police say Eby's body was found in the trunk of the car, wrapped in plastic, and bound with tape and electrical wires. Pederson was shot three times in the backseat of the car before a second suspect helped dump the vehicle near Roza Dam. Whalen admits to helping wrap and get rid of the bodies but police don't believe he did the shooting. "I don't know what to say, I really don't. All I can say is his family will be behind him, we'll support him," Whalen said. Police are looking for a second man who they want to talk to. They're not calling him a suspect, but a person of interest. Whalen is behind bars, his bail set at $2-million.