UPDATE: Firefighters Investigating House Fire in Yakima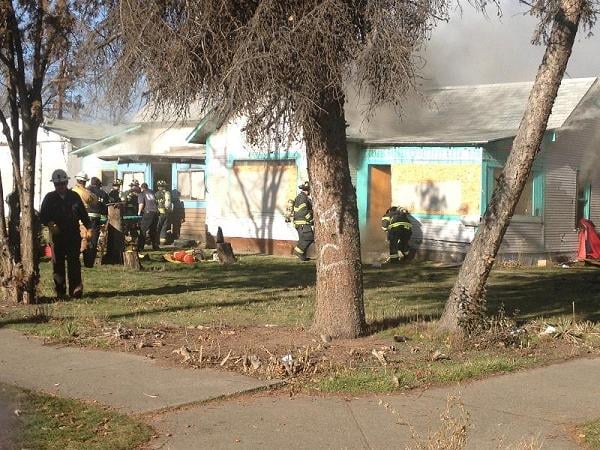 UPDATE:
YAKIMA, Wash.--Several people trapped in a burning house Friday morning, breaking glass and trying to knock out the boards that barricaded them in.
"I have seen fires before, but I've never really seen people trapped in and jumping out and get away from it like this," said Michael Ryckman, a witness.
"When I got up, I just seen smoke," said a neighbor who prefers to remain anonymous. "Then when I came out, the house was on fire and then we seen a guy bust out the window and take off running, that he was going to leave the other people behind."
Yakima fire crews said thick smoke and boarded up windows made it extremely difficult to find the three people trapped inside the house on the corner of West "D" Street and 5th Avenue.
"Can't feel anything when you're trying to go in there and do your search because it's so smoky, and there's garbage everywhere," said a firefighter.
One woman and two middle-aged men were rescued. The men are in critical condition, and we're told they've been flown to Harborview Medical Center in Seattle. Firefighters said one still remains unconscious.
Neighbors said the house has been abandoned for years but still gets a fair amount of activity.
"We still have people coming in and out who do drugs, and it's just a drug house," said a neighbor.
NBC Right Now asked "Do you see shady activity in there a lot?"
"All the time, all the time. They walk through my yard, it's crazy. It's scary."
Neighbors want to see the house taken down before something worse happens.
Crews said the two men are expected to survive. The fire is still under investigation, and city officials said they're discussing what to do about the abandoned house.

PREVIOUS INFORMATION:

YAKIMA, Wash. - Firefighters are investigating the cause of a fire that started Friday morning on the corner of West D Street and 5th Avenue in Yakima.
Two people were inside when it started around 10 AM. Firefighters carried them out on stretchers. We currently have no word on their conditions.