"Go Red for Women" Campaign Celebrates 10th Anniversary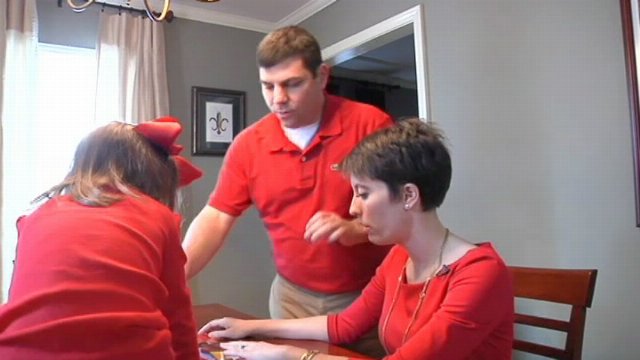 Today marks the tenth anniversary of the American Heart Association's Go Red for Women campaign.

Over the past decade awareness that heart disease is the number one killer of women has gone up while deaths from the disease have gone down.

Two women with the same heart condition had very different experiences with their diagnosis and it could be because one woman was diagnosed before the campaign began.

Spending time with her twenty-one-year-old daughter is something Michelle Burke was told would never happen.

Fifteen years ago she was a busy mother of three. Her usually perky personality was bogged down by extreme fatigue.

Knowing her sister had died at age nineteen from a heart condition, she felt it was time to see if she also had a troubled heart.

"I went to actually 2 different doctors and they said to me, it's just because you have young children, it's your season in life, when they grow up you won't be tired anymore."

Months later a different doctor agreed to take a look at Michelle's heart, and when they called with the results -- she was told she had only a handful of years left.

"My doctor called and said Michelle, your heart is in terrible shape. You need to go to the hospital tomorrow at 7 am and be prepared to stay a while."

In the time since Michelle's diagnosis the American Heart Association's Go Red for Women campaign has made great strides in raising awareness of women's heart problems, for both women and their doctors.

That increased awareness likely saved Mary Leah's life.

"I think I would have been a 30 year old mom pushing a stroller, and they would have found out post-mortum that I had heart disease."

Like Michelle, Mary Leah was also a busy mother who was constantly tired. But when she told her doctor about her mother's heart condition, he took her family history seriously and immediately ordered additional tests.

"It was pretty world shattering and life altering to find my heart was functioning at 10% of what it should be."

Both women are living with their condition rather than succumbing to it, something they say wouldn't have been possible without the awareness and research Go Red has created.

Ninety percent of people who registered with the Go Red campaign made a healthy lifestyle change, like changing their eating or exercise habits or getting their cholesterol checked.