Hanford Crews Inspecting Double Shell Tanks for Leaks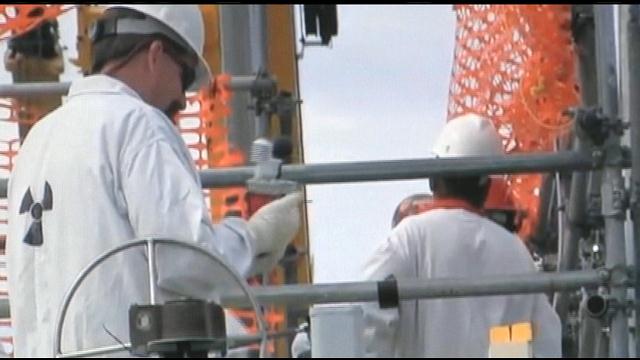 RICHLAND, Wash.-- Inspection crews are taking a close look at Hanford's double shell tanks after a leak was discovered in one tank last October.
Video inspections of six more double shell tanks at Hanford are under way to look for possible leaks.
In October, one double shell tank showed leakage between the two shells, which prompted the further inspections.
Two of the six additional tank inspections are now complete and they show no signs of leaking.
As part of the inspection, field workers lower cameras into the shell gap in 5 foot increments and swivel the camera for a thorough investigation of the shell's condition.
"This is unprecedented in Hanford's history to discover and confirm a leak in the inner shell of Hanford's double shell tanks. So we're really taking all the necessary precautions that we need to. And with that we've identified six additional tanks that we're taking a closer look at," said Rob Roxburgh, Washington River Protection Solutions.
Crews are inspecting these six other tanks because they were built around the same time as the leaking tank, in the late 60's and early 70's.
Hanford is working closely with regulators from the Department of Energy and the state Department of Ecology to determine how to move forward with the leaking tank.
Workers plan to complete the inspections this spring.