Richland Schools Bond Part of a Long-Term Plan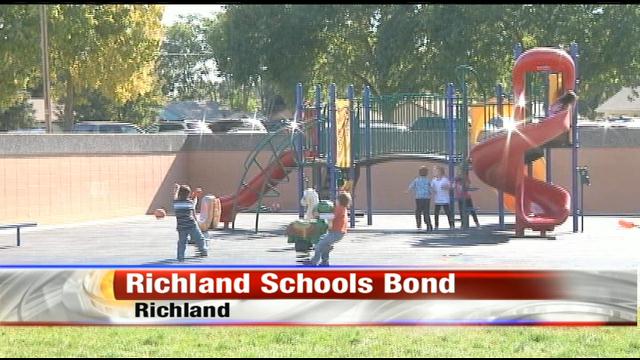 RICHLAND, Wash.-- The Richland School Board is placing a $98 million dollar bond before voters for what they say are desperately needed construction updates and new buildings.
Some people wonder if the board is asking for too much from the tax payers, though.
"It's the future of our community in terms of economic development, in developing our youth, our next generations and keeping Richland and West Richland a great place to live and raise a family," said Rick Jansons, Richland School Board Chairman.
The Richland School District and its supporters believe this bond serves a purpose greater than the school buildings themselves.
The bond, along with $32 million in expected state funding, would replace three Richland elementary schools, build new schools and repair others.
"There are three main things we're doing with bond. First, we're taking care of desperately needed repairs. Second, we're addressing the growth in south and west portions of the district with a new elementary and a new middle school. And last, we're taking care of those older buildings downtown in the core of Richland that need to be replaced and modernized," Jansons said.
But some voters think the district is asking for too much.
"It's way too much money to put on the tax payer and yes the school district's been mismanaged for a long time," said Lloyd Becker, who opposes the bond.
Jansons said the district is very prepared and has developed a 40 year plan to assess the building needs at each facility.
He said they work to find the right time for both tax payers and the district to propose a bond.
"Part of the long range plan looks at tax rates and if you've looked over the past five years, you've seen our tax rates for bond capacity gradually drop because we've paid off our old bonds. We don't come back to the tax payer until those old bonds are taken care of and then we come back and say it's time to reinvest in our community. Now is that time," Jansons said.
The cost of the bond is $34 a year per $100,000 of assessed home value. Senior citizens with fixed incomes can receive an exemption.
Ballots to cast your vote on the bond must be postmarked by Tuesday.