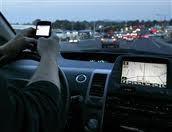 SALEM, Ore. - Oregon motorists caught making calls or texting while driving could face stiffer fines.
The Oregon State Legislature is considering a bill presented by Senate President Peter Courtney, that would increase the fine for distracted driving up to $1000.
Courtney says he wants people to start taking the current distracted driving laws more seriously.
On Tuesday, the Senate Judiciary Committee approved the bill.
A similar bill in the State House is aiming to increase the fines for drivers using their cell phones to $2,000. The current maximum fine is $250.