UV Light Being Used to Fight Hospital Acquired Infections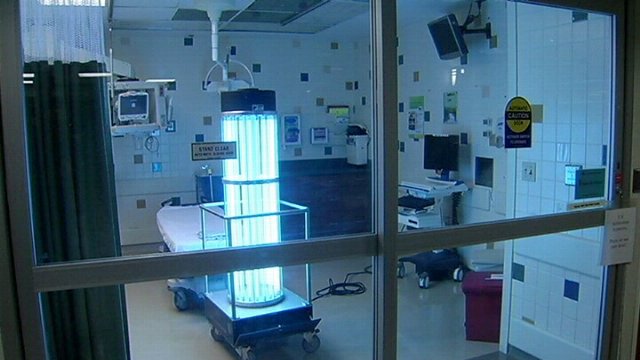 Hospitals are constantly fighting a battle against germs that make patients sicker.

For years the weapons of choice have been bleach, soap and water, but now hospitals are using something new.Ultraviolet light that neutralizes everything from flu to tuberculosis.

It's been four days and counting since Harold Luckett came to Ingalls Memorial Hospital, already aware that getting healthy means keeping things clean.

"If you're not cautious, you can get extremely sick..."

Hospital acquired infections can be anything from a simple flu to tuberculosis to mrsa, which can cause deadly infections. Or the spore "c diff", which can lead to life threatening inflammation of the colon.

Dr. Ben Zachary, an infectious disease specialist, works to keep patients healthy after they admitted to the hospital. He estimates that about 100 thousand people actually die every year in U.S. hospitals, and costs billions of dollars to healthcare. Making prevention the key.

What looks like a standing tanning bed is in fact a sterilizing device. It emits deadly ultra violet rays into all corners of the room, attacking the micro organisms at a genetic level, killing them.

Dr. Zachary says "It seems to work against a number of things, potentially problematic in the hospital setting"

Technicians roll in the device and set up the light directing sensors after a thorough cleaning, so it's an added infection control measure, which officials here believe has worked.

Dr. Zachary states this new technology at this point experimentally has shown to be highly effective.

If future studies bear out these early findings, hopsitals may have found an entirely new way to fight the battle against infections.