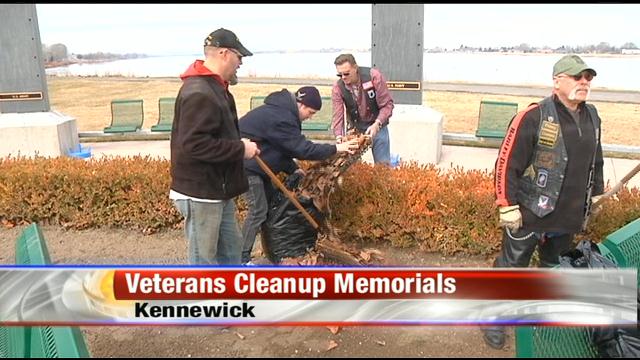 KENNEWICK, Wash.-- A local group is doing their part to maintain the veterans memorials here in the Tri-Cities.
The Combat Veterans United group is cleaning up local veterans memorials to show their respect.
The group raked leaves and tidied up the Columbia Park Regional Veterans Memorial Saturday morning in Kennewick.
The second Saturday of every month the veterans clean up five memorials across the Tri-Cities.
Now, it's not that clean-up wasn't being done, the group asked the cities to take on the duties.
Combat Veterans United knows keeping the memorials clean preserves them and the memory of the soldiers that the fixtures represent.
"We just had a gentleman that came by that one of his sons was killed in Iraq and he couldn't say thank you enough. The people that have lost loved ones, they really appreciate it," said Rick Cleavenger, Combat Veterans United.
Combat Veterans United are always looking for more volunteers and donations to support their work helping veterans.
If you'd like to help or donate you can send an email to ratchet_whitey@yahoo.com.