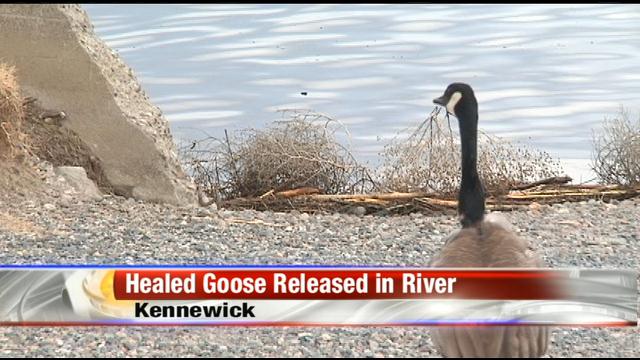 KENNEWICK, Wash.-- A wildlife clinic released a goose back into the Columbia River Saturday at Columbia Park in Kennewick.
The goose was found with an arrow through it's neck earlier this year.
People tried to help the bird for weeks until it was finally captured two weeks ago.
Volunteers took the bird to the Blue Mountain Wildlife Clinic in Pendleton for surgery and rehabilitation.
Saturday, the healed bird was sent out into the wild again.
"People when they find things that are injured, they want to know that there's some place to take them where they can receive care and that's what we provide. If we're lucky we get to bring them back like we are today and release them," said Lynn Tompkins, Executive Director of Blue Mountain Wildlife Clinic.
Tompkins said it's not legal to shoot a bird in the city, but it is in the counties.
She said nearly all the animal injuries they see at the clinic are caused by humans.