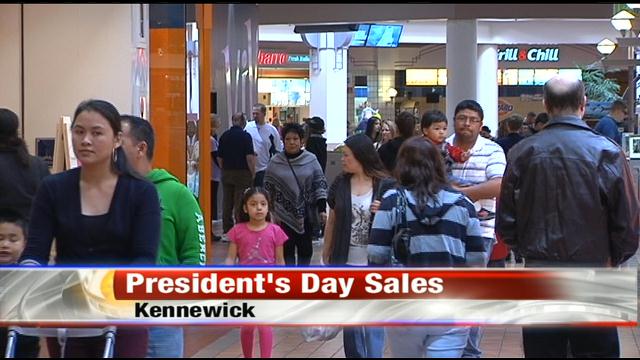 KENNEWICK, Wash.-- President's Day weekend is a way to celebrate America's presidents, but it's also become a weekend of shopping.
President's Day weekend is the first time after the holidays rush that retailers see a big boost in business.
Most major retailers are offering discounts and luring in lots of shoppers.
Retail experts say it's one of the best times of year to buy electronics and furniture, which typically are the items that show the biggest savings.
Many stores are moving out all of the 2012 inventory to make space for 2013 products and the new spring collections.
"President's Day is traditionally busy and this year it's definitely busy. Most of our retailers have at least 25% off the whole store if not 40% off and many have 75% off or more off their sale and clearance racks," said Patricia Bardin, Columbia Center Mall spokesperson.
The three day weekend isn't long enough for some stores that started their sales last Wednesday to take full advantage of the annual mall attraction.
The retail tech company, ShopperTrak, predicts retail sales will rise 3.2% in the first quarter of this year and President's Day weekend sales are one of the biggest factors in that increase.