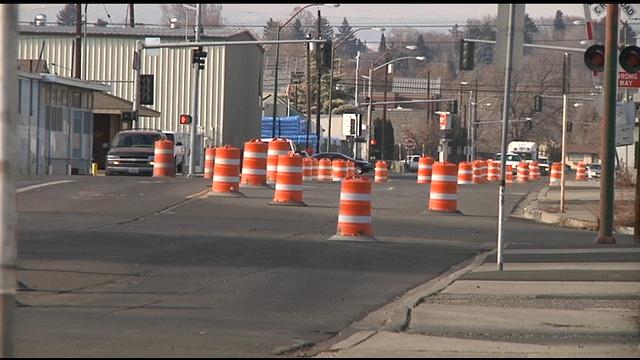 YAKIMA, Wash.-- Work on a new Yakima underpass is set to begin in just a few weeks, and that has some business owners concerned.

Dozens of people walk in and out of Mel's Diner everyday, looking for a stack of pancakes, or maybe just a cup of coffee. The N. First Street restaurant relies on a steady flow of hungry patrons to pay its bills.

So, when construction comes to the neighborhood making it tough for people to get around, owner John Puccinelli says many decide to stay away.

"It always hurts business whenever there's a lot of construction in an area. People avoid the area," Puccinelli said.

And that's what has Puccinelli concerned. With construction on the new Martin Luther King Junior Boulevard Underpass scheduled to begin in March, he's worried his business might take a hit.

"You bet we're concerned, it's going to affect the business again. How much? We don't know," Puccinelli said.

But what Puccinelli and other local business owners do know, is that when the Lincoln Underpass was built customers did decide to stay away.

"It was just unfortunately very hard to get to our location. The convenience side of things was pretty poor, so we lost a lot of business," said Fred Mendoza, manager at Elliott Tire and Service Goodyear.

In fact, Fred Mendoza says they saw a 20 drop, and even had to lay off one of their technicians. So, he's hoping the MLK Underpass goes in a lot easier than Lincoln did.

Work on that project took about two years to complete, going over budget and way over schedule, creating an ongoing headache for businesses in the area.

"We're hopeful that won't happen this time. They're telling us it won't, of course they told us it wouldn't last time," Puccinelli said.

"I hope they learned enough from the first time, that they can get in there, get the project done, and just get going. Cause we can't go through that again," Mendoza said.

The almost $11-million project is scheduled to be completed by fall of 2014.

City officials say they're committed to making sure this project goes better than the last.