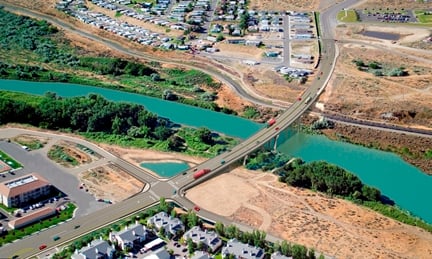 RICHLAND, Wash.- The Richland City Council moves forward with the Duportail Bridge Project after being tied up in paperwork.
It took three years for the completion of the Environmental Federal Review Process and now council members will hold a public review on the $35 million project in March as part of that review.
Meanwhile, the council will work on acquiring pieces of land left to compete the project.
The bridge will start at Duportail and the bypass highway and cross the Yakima River into South Richland, but the Public Works Director, Pete Rogalsky says it is still a long way from breaking ground.
"The largest remaining hurdle at this point is that there is not enough money in the city's hands to actually go to construction. So, we're actively looking for construction money," said Rogalsky.
Rogalsky said the City of Richland is presenting the project to state lawmakers as a "needed improvement" in hopes new funding to enhance statewide transportation will include the Duportail Bridge Project.
The City Council has designated the Duportail Bridge project as the highest priority transportation project.