Second Amendment Rally in Yakima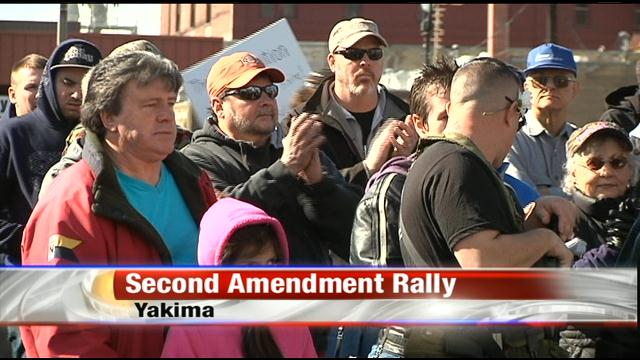 YAKIMA, Wash.--Nearly 150 people gathered at the Millennium Plaza in Yakima for "Day of Resistance."
"It's not just standing here saying these are my rights and this is what we have to do," said Maria Bosworth. "It's doing."
Bosworth stirs up the crowd. She asks people to take action by picking up the phone and letting State Representatives know they won't stand for stricter gun control.
"Them taking my guns is like taking your breath," said Bosworth. "It's part of who we are, it's our own self protection. It's not out of fear, it's out of self preservation."
One by one, people step up front to tell the crowd why the Second Amendment is so important to them, and how they'd feel if the government limited that right.
"Makes me feel vulnerable, makes me feel like a victim," said Katie Leaming. "It makes me feel like they don't have the right to play God and make that choice for me."
"I never want to be put in a situation that a gun would have been handy," said Bosworth. "I don't want to ever be stuck somewhere that my life or my children's lives would be in jeopardy, and I couldn't defend myself so that's why I pack a weapon."
Gun control laws are back in the spot-light after a string of violent events rocked the nation. President Obama is calling for universal background checks on all gun buyers and a ban on "military style" assault weapons.
Kirk Groenig said these proposals are an attack on his rights as an American.
"Right now we have elected officials in there, they're violating the constitution that they swore to uphold," said Groenig. "Those are actually the people we probably need to remove, and that's probably 80 percent of them that are there."
Many people at the really carried assault weapons on their backs. They said banning these types of weapons won't stop killings.
"Criminals don't pay attention to law anyhow, otherwise they wouldn't be criminals," said Bosworth.
'It's a problem with society," said Leaming. "It's not a problem with the gun. Assault is a society problem, not a weapon problem."