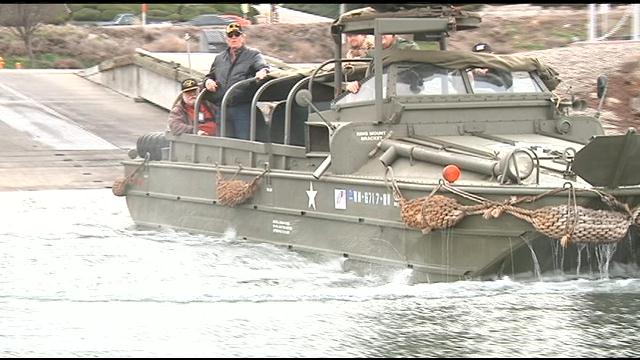 KENNEWICK, Wash. - A Benton City man and a few of his friends with similar interests are heading to Portland later this summer. But they'll be swimming there in a 1942 GMC DUKW.

It's a boat and also a truck and goes on both land and water. The DUKWs were built for the military during World War II and could hold about 25 men at any one time.

John Engelke has a love affair with vintage military vehicles but his DUKW is his baby.
20,000 of them were built in the 1940's. Now, Engelke said there are only about 200 of them left that are restored like his.
"You can't go anywhere without somebody stopping. I've had people stop in the middle of the highway and park their vehicle and get out to film me," said Engelke.
It took Engelke the better part of a decade and a lot of money to get the vehicle in the shape it's in now. But now that it is running he gets a lot of good use out of it.
"Come down here below McDougal's. It's a good path, there's backroads from my house in Benton City. I've got an eight foot diving board that I mount on the top where the gun sits and the kids can climb up then and jump off," said Engelke.
Come summer, the goal is to get the DUKW to Portland for a military vehicle convention in July.

"I have four of my military vehicle enthusiasts with me and we're all going to try to scrape enough money together to actually swim this to Portland. The cost of fuel going down there is probably going to be 800 or 900 dollars. Then we've got hotel rooms and other expenses," said Engelke.

As you can imagine, the DUKW isn't the greatest with gas mileage. It gets around 12 miles to the gallon on the road and .8 miles to the gallon on the water.

If you'd like to help Engelke and his comrades get to Portland this summer you can contact them via email at tricitymvclub@gmail.com.