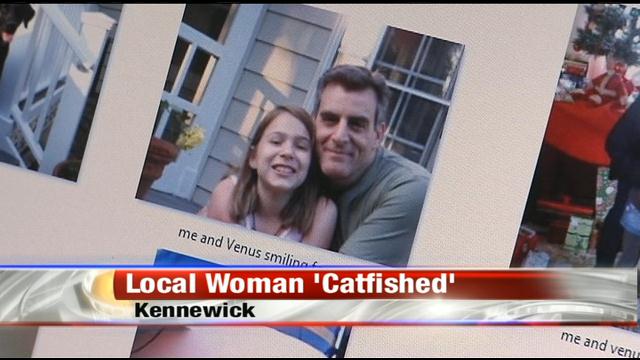 KENNEWICK, Wash. - By now, we've all heard the story of the college football player whose online girlfriend turned out to be a hoax. It's called catfshing and in extreme cases, these online deceptions can wind up ruining people's lives and emptying their bank accounts.

Sharyle Martin is a single mother but her romantic interests were piqued earlier this year when she met 'Richard' on an online dating site.
"He contacted me and I replied back and read his profile and was quite impressed with the profile. So I started talking to him and we started emailing back and forth everyday. I mean two to three emails a day," Martin said.
In fact, a total of 164 emails were exchanged between the two in just over a one month span. But Martin's budding love story bore a striking resemblance to another woman's story in Portland who was featured on a newscast there.
"I mean this lady there, they were going to get a house in Beaverton and he had to go to London for work. That was the same. He told me that he had a five bedroom house with a swimming pool and he had to go to London to do this job," Martin said.

Martin quickly realized the man who called himself Richard was likely catfishing. The thing about a virtual identity is you can be whoever you want online.

"As far as establishing relationships in an electronic world, that has become part of a our culture, that we communicate so much. Whether it's texting, Facebook, emails. The reality is that before you do anything more than just talk. You need to meet people face to face," said Kennewick Police Sergeant Ken Lattin.

Martin's online love interest did eventually ask her to send him money.

"I said, I have $300. I could send you half. By this time, I wanted to see what he would say. Well, he wanted it. He wanted it," Martin said.

"If you send money to somebody, you're on your own. Police aren't going to help you get it back. You willingly gave money to somebody. Just because they turned out to be not who you thought they were... Don't be a dummy," Lattin said.