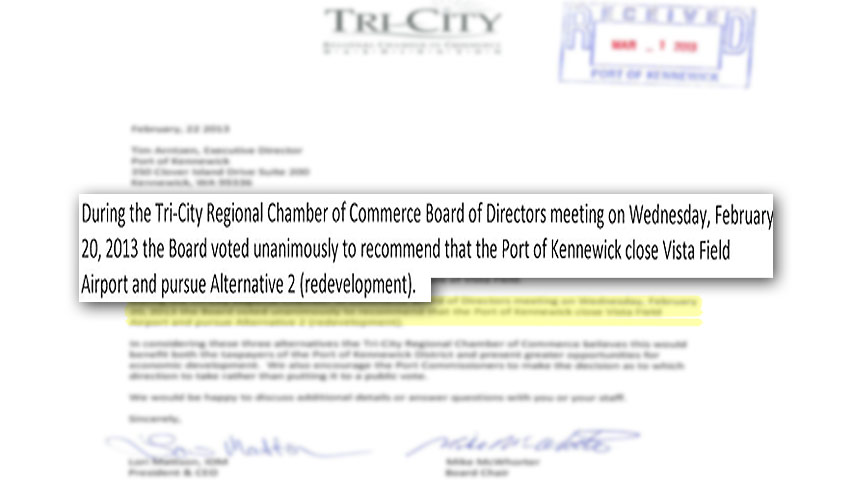 Letter to the Port of Kennewick from the Tri-City Regional Chamber of Commerce concerning the Vista Field Airport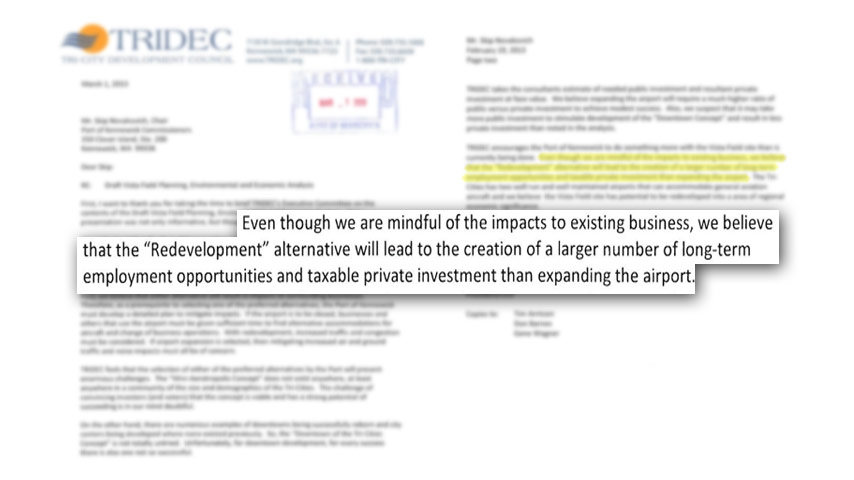 Letter to the Port of Kennewick from TRIDEC concerning the Vista Field Airport
KENNEWICK, Wash. -- The Port of Kennewick received two letters today regarding what should be done with the Vista Field Airport.
Letters from the Tri-City Regional Chamber of Commerce and TRIDEC praised the Port of Kennewick on their efforts on handling the presentation and voiced their opinions on what the future of Vista Field should be.
Both the Chamber of Commerce and TRIDEC recommended the port close Vista Field and re-develop the area.
In the letter from the Chamber of Commerce, it quotes "the Board voted unanimously to recommend that the port of Kennewick close Vista Field Airport and pursue Alternative 2 (redevelopment)."
The letter from TRIDEC stated, "Even though we are mindful of the impacts to existing business, we believe that the "redevelopment" alternative will lead to the creation of a larger number of long-term employment opportunities and taxable private investment than expanding the airport."
A consulting firm hired by the Port of Kennewick has gathered public input on Vista Field and now they are gathering recommendations from stakeholders; and as those stakeholders make their recommendations, it looks like re-developing is the top choice.

The consulting firm came up with three options: shut down the airport, expand it or redevelop the land.

The consulting firm is working to bring a final report before commissioners sometime next month.