The Tri-City Crystal Apple Awards Celebrate Excellence in Education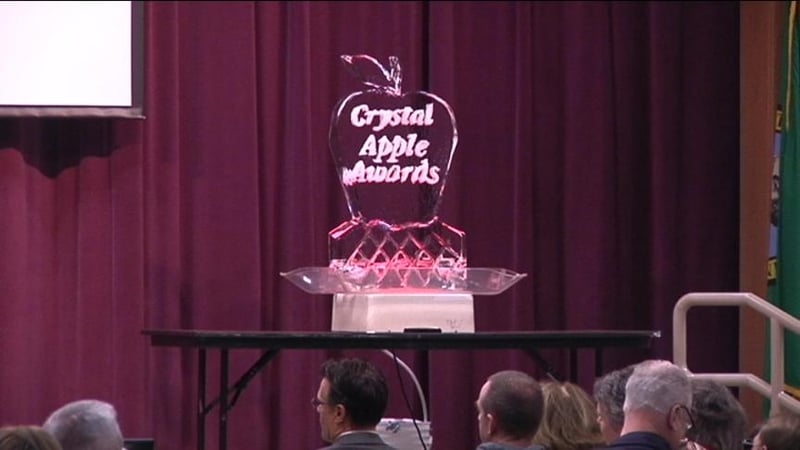 PASCO, Wash.- The Tri-City Crystal Apple Awards celebrate Excellence in Education by honoring teachers from seven school districts around the region Thursday.
The award program held at the Columbia Basin College this year is the largest of its kind in the state.
It's the generous contributions from local community organizations and businesses that make it possible for the area's outstanding educators to be honored.
Thirteen teachers and a special achievement winner was recognized for their dedication and impact on education.
The Crystal Apple Award program was initiated in 1999 and, after Thursday's ceremony, will have honored 181 local teachers.
Carol Webster, a Crystal Apple Award recipient, is a special education teacher at Westgate Elementary School said, "It means that all my hard work, all the love I have for kids, other people recognize that and they were willing to say thank you."
Educators from Columbia-Burbank, Finley, Kennewick, Kiona-Benton, North Franklin, Pasco and Richland districts were all represented.
The year's Tri-City Crystal Apple Award Winners:
Kindergarten teacher Shelley Hawk of Mesa Elementary School
STEM team members Mike Davis, Elaine Hagen, Beth Kirk and Diana Chanthavisouk of Finley Elementary School
Second-grade teacher Cynthia "Cindi" Glazier and kindergarten teacher Holly Hamilton, both of Columbia Elementary School
First-grade teacher Irene Alvarado at Kiona-Benton City Elementary School
Special Education teacher Carol Webster-Claphan of Westgate Elementary School
Fourth-grade teacher Judy Church of Rowena Chess Elementary School
Sophomore Science and Biology teacher Raquel Martinez of Pasco High School
Fifth-grade Highly Capable teacher Deborah Madison of Lewis & Clark Elementary School
Government and Leadership teacher Paul Mayer of Hanford High School