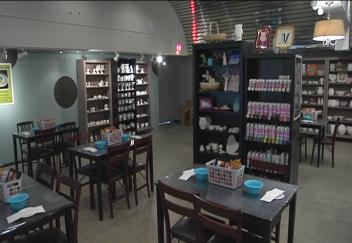 KENNEWICK, Wash., -- Everyone can get their art on at Polka Dot Pottery, one of the newest stores in Columbia Center Mall.
The business offers a place where parents and kids, friends and families can gather, paint, laugh and create a unique piece of pottery to take can take home and treasure for a lifetime.
The Columbia Center location is the fourth Polka Dot Pottery store opened by Kimberly Geiger, a Spokane artist and entrepreneur.
Customers can choose from a wide variety of ready-to-paint pottery including mugs, ornaments, plates and piggy banks.
Once customers finish painting their pieces, employees clear glaze and fire them in the kiln and pottery is available to be picked up a week later. Polka Dot Pottery is open seven days a week.
"People tend to generally pretty happy when they come in. I mean, it's a fun thing to do whether you're with family or friends," says Claire Schilperoort. "We also do date nights on Thursday nights, so we get couples coming in on cute dates and painting things together."
Read about more new companies at
TriCitiesBusinessNews.com
.