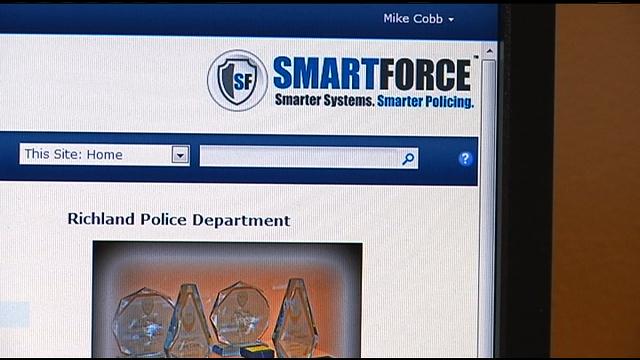 RICHLAND, Wash. - The Richland Police Department is going high tech. A new software, called SmartForce, has been in the works for more than two years and has been in the testing phase for a couple weeks now.

Captain Mike Cobb said the Richland Police Department is one of just two in the entire nation to use SmartForce at the capacity they are. It's a Cloud based website that's meant to share information in real time.
Cobb said they've tried just about everything at RPD to communicate. The department changes shifts twice a day and they've tried Word documents, PDF's, hard copies and even white boards to share their shift information. But nothing's been quite as successful at SmartForce.

"We're going to definitely get more bang for our buck when it comes to our officer's time. They're going to be able to do more. They're going to be able to do it more efficiently and fewer things are going to fall through the cracks," Cobb said.

Richland officers have already begun using the technology to solve crimes. There's still a bit of a learning curve, though, and there are lots of test messages and test data on the system but it will go fully live on Monday.

Licensing fees for SmartForce will run the Police Department about $1,000 a month.