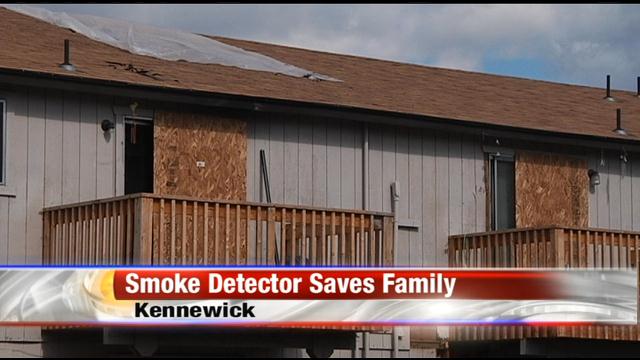 KENNEWICK, Wash.-- According to fire officials much of the Tri-Cities is failing to live up to efficient smoke detector standards.
A woman woke up early Friday morning to the beeping of her apartment's smoke detector and quickly evacuated with her two children before the fire took over their home.
She also alerted neighbors who made it out safely before the fire spread to a second apartment.
Kennewick fire officials want people to take notice to how essential smoke detectors are when it comes to saving lives.
The Tri-Cities matches the national average with a 46% failure rate of smoke detectors being present at a fire.
Fire fighters say that just isn't good enough.
"Short window of time in which to get out of a building that's got a fire in it. Because they were awakened it bought them that minute or two that they needed to get out of the building before it spread to the parts of the building where they were at."
Captain Kandle said smoke detectors have a life of ten years and after that you need to get a new one.
He said people often fail to check the batteries on older models and should invest in getting a current device.
Not all buildings are required to have smoke detectors, but firefighters stress how the device could save your life and the lives of your loved ones.
It's a small investment that could have a big return.