4th and 5th Graders Help Restore Yakima River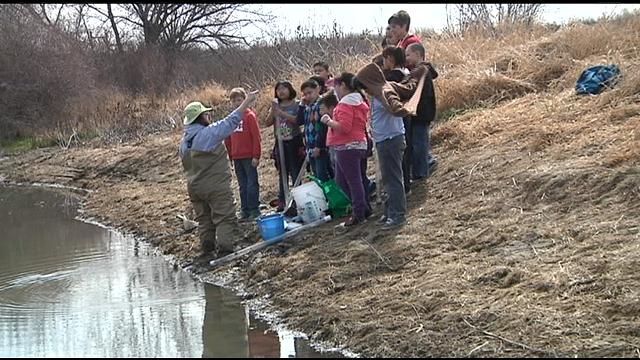 YAKIMA, Wash.--For almost 100 fourth and fifth graders, a 100-acre farm nestled near the Yakima River served as their classroom.
"It's really safe, and they have the ability to get close to the river," said Merritt Mitchell Wajeeh, the owner of Heavenly Hills Harvest Permaculture Farm in Sunnyside. "It's exciting to see their faces and see them getting excited about some of the things that we're excited about."
Wajeeh partnered with the Mid-Columbia Fisheries Enhancement Group to restore 10-acres of her land near the riverfront.
Students spent the day learning about the importance of maintaining the environment. They also supplied one crucial component to the project.
"These salmon that they're releasing will go back out to the ocean, and then they'll come back and hopefully spawn right here," said Wajeeh. "Historically, I understand that they would have spawned here, but the water is just too warm."
"We've just kind of not been good land stewards over the years," said Melissa Babik, a representative for the Mid-Columbia Fisheries Enhancement Group. "We'll plant crops and agriculture right up to the rivers so it doesn't provide good habitat."
The Fisheries Enhancement Group said there used to be five species of salmon in the Yakima River. Now, only two species remain, which could be devastating for our local economy.
"When I asked the kids, I said how many of your dads work for local hatcheries or work in the dams, a lot of people are invested in this community," said Babik.
"I think that that right there is the beginning of them understanding the larger picture," said Wajeeh. "If that fish is able to have a healthy environment, then they will have a healthy environment."
So how do we keep the fish from dying? By planting tons of trees along the Yakima River.
"Having them pot these plants, they're becoming stewards, and they're saying I remember when I did that," said Babik. "I helped restore Horse Heaven River Ranch."
Seventh graders from Granger will also head up to the farm this week to join in the recovery project.