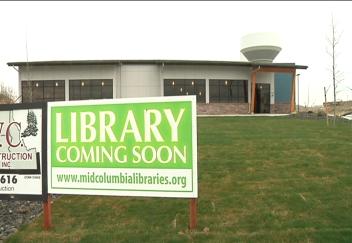 PASCO, Wash., -- Mid-Columbia Libraries' new west Pasco branch opens April 20th.
Dennis and Christine Gisi own the 6,000 square-foot building at the corner of Road 76 and Wrigley, and will lease it to MCL.
Halls Engineering of Kennewick provided site design, BBT Architects of Bend designed the building and WC Construction of Richland was the general contractor.
The new library has a full-service drive-thru, allowing for convenient returns and pick-ups.
Residents who register as customers of the new library will have access to Mid-Columbia Libraries 11 other branches and its collection of more than 400,000 books and E-books and audio-books.
"It's got a lot of open space, it's got a bank of computers, it's really child friendly in the decor, the colors are certain nice and modern," says building owner Dennis Gisi. "I think it's just a wonderful asset to west Pasco."