Phony Notice from City of Pasco Could Be April Fool's Prank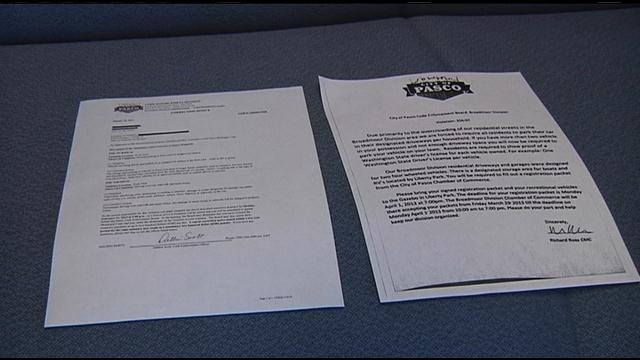 PASCO, Wash. - People living in the Broadmoor area of West Pasco are talking about a code violation notice found in their neighborhood. It looks like it's from the city of Pasco but it's not.
The bogus notice tells residents to go to Liberty Park between Friday morning and Monday night. People are supposed to bring a signed registration packet and their recreational vehicles to the gazebo.

"First, when I saw it... It looks legit. How it's written... But it's not actually mailed and certified or anything like that so you can't really say it is. But it is awfully strange," said Donny Bento.

The notice addresses 'overcrowding' and a parking issue in the 'Broadmoor Division' of Pasco.

"We don't have what we call a 'Broadmoor Division' and that's not a section of the city where parking is a particular problem," said Deputy City Manager Stan Strebel.

Furthermore, the notice references the Broadmoor Division Chamber of Commerce... which doesn't exist. Also, instead of the city of Pasco's formal letterhead, this notice has merely copied the city's logo.

"When we send notices we have contact information, phone numbers, emails, addresses. We sign our notices and use appropriate means to notify people of our concerns," Strebel said.

"I don't know why anybody would even want to do something like that and what are they getting from it. Or... I don't understand why they'd even do something this crazy," Bento said.

City officials just want people to know the notice isn't from them.

"The notice does say April 1st. Of course, I don't need to explain that any further to people. It may be posed as a prank on the April 1st date," Strebel said.

The city is working to try and figure out who the early prankster might be.