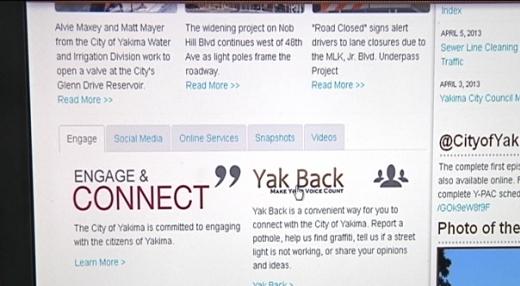 YAKIMA, Wash.-- The City of Yakima wants your help to make the community a better place. A new, online reporting tool has been up and running for a few months and more and more people are using it to get their neighborhoods cleaned up.

It's called "Yak Back." An online resource that lets people report potholes, graffiti, and any other problems they want fixed across the city.

It's been online for nearly six months now and city officials say the feedback has been great.

In the past two months alone, people have sent the city more than 80 responses. A number they believe will only go up as more and more learn about the program.

It's really easy to use, just go online, fill out a report, and the city guarantees someone will look into it within 48 business hours.

"The idea was to try and provide the average person out in the community an easy way to let the city know that this needs some attention or we have this problem in this part of the city. It's a very convenient way to do that," said Randy Beehler, community relations manager with the city.

Beehler says the program was developed in-house, so it came at no extra cost to taxpayers.

He says graffiti is the most common kind of complaint they get.

If you want to make a complaint using "Yak Back," visit out News Links page.