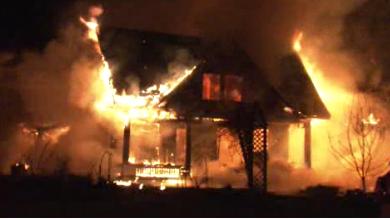 SPOKANE, Wash. - Firefighters called to reports of a house on fire in west Spokane found that and much more early Friday morning.
The fire broke out around 1:00 A.M. on the 500 Block of South Audubon, next to High Bridge Park. Fire crews arriving at the scene found a one-and-a-half-story home fully engulfed in flames and the flames threatening a shop next to the home which may have had someone living it. A garage near the home was also exposed to flames.
Fire crews instantly had to jump into a defensive mode as the flames were so huge. Multiple teams worked on the fire for several hours before completing a knockdown in the main structure. Two other homes, one to the north and one to the west were saved by firefighters acting quickly to contain the flames.

Avista electric and gas crews were called in to assess the damage and look into any possible threats.

We don't know at this point whether there are any injuries in the fire. Crews have not been able to contact the homeowner or the person who was living in the home.

A neighbor told KHQ that the female resident was to be evicted today.
The cause at this point is under investigation