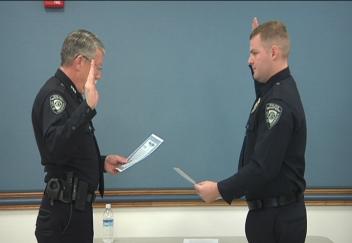 KENNEWICK, Wash., -- A Kennewick native has come home to the Tri-Cities and is now the newest officer at the Kennewick Police Department.
Seth Reil graduated from Kennewick High School in 2004 and joined the Marine Corps for six years.
He served a tour of duty in Iraq in 2007 and worked as security detail for the President and the Vice President while overseas.
His grandfather was a Richland police officer from 1943 to 1967.
Reil is the first new hire of 2013 for Kennewick police.

"I wanted to be a cop since high school, so it was a natural fit," says Reil. "I wanted to come back home. I remember my DARE officer, my SRO officer and I remember them being really friendly and always willing to help."
Reil's next stop is the police academy for law enforcement training.