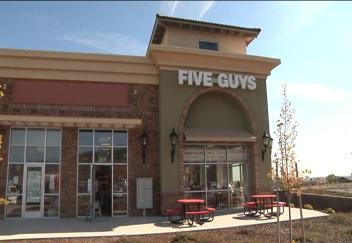 RICHLAND, Wash., -- A Five Guys Burgers & Fries franchise burger joint opens on Monday at 11 a.m. in a 2,500 square-foot suite in Vintner Square off Queensgate and Duportail in Richland.
Virginia-based Five Guys Burgers & Fries has more than 1,000 locations in 47 states and six Canadian provinces.
The Richland franchise is the first location for the Tri-Cities, and is owned by Montana Burgers Incorporated.
According to Five Guys' website there are more than 250,000 ways to order a burger. They use only peanut oil and no trans fats.

"It's kind of a cult following," says General Manager Jamie Linder. "You can't get a better tasting burger. A fresh burger that's made and prepared every morning from our crews and our french fries that hand cut ourselves. You just can't find that anywhere."
Read about more franchise restaurants coming to the region at TriCitiesBusinessNews.com.