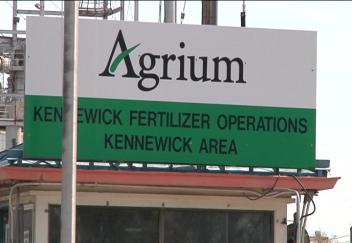 KENNEWICK Wash.- Administrators at the Agrium Finley plant want to stress that they are up to code on their safety precautions. The administrators make sure that an incident like the one that occurred in West, Texas will not happen here.
Production Superintendent Dave Dey told NBC Right Now that Agrium trains their employees to deal with the initial emergencies that may occur.
There's a clearly marked area surrounding the plant that no one can access unless they've been properly trained in the safe handling of emergencies.
"We here at Agrium take safety seriously. That's above all else, so it's in that respect that it's a very good place to work, a very safe place to work," explained Dey.
Dey went on to say that they're very interested to see what actually happened in the Texas explosion. They want to learn from the incident and apply those lessons to make their plant here in Kennewick even safer.