Wags to Riches Animal Rescue Looking for Stolen Dog after Burglary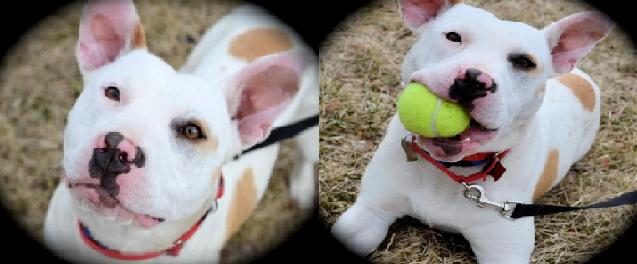 UPDATE:
YAKIMA, Wash.--A community is searching for a missing dog stolen out of a Yakima animal rescue.
The suspects took bags of dog food, crates, cleaning supplies and other valuable items, but all "Wags to Riches" cares about is getting the dog back.
Parker is a one-year-old Bull Terrier mix.
Becky Pascua, the Animal Rescue Coordinator, said the dog was stolen sometime between Saturday night and early Sunday morning. Police are currently handling the case and searching for the thieves.
Parker's picture is all over Facebook and the animal rescue is offering a $100 reward for anyone that can help find her. If you spot Parker, call the Yakima Police Department or contact Wags to Riches through their Facebook page.
"She's just too sweet to be out there and at large and scared," said Pascua. "We're scared for her, we have no idea what's happened to her. We don't know what kind of hands she's fallen into."
The organization has been open for five years, but this is the first time it's been targeted by thieves.
Pascua said they plan to buy a security alarm system, dead bolts for all doors and an off-site surveillance system.
Volunteers said they never thought something like this would happen to a non-profit that's just trying to help the community.
YAKIMA, Wash. - Directors at Wags to Riches Animal Rescue in West Valley are looking for the person or people who broke the shelter over the weekend.
Directors say volunteers showed up on Sunday morning and found someone forced open the door and stolen several items, most importantly a 1-year-old Bull Terrier mix, called Ms. Parker McLuvins.
The shelter says the other items stolen are also vital for day-to-day care and activities, and need to be replaced, including laundry detergent, toiletries, dog food, dog toys, dog crates, a coffee pot, cleaning and office supplies.
The missing dog, Parker, moved from the Humane Society of Central Washington last month into the Wags to Riches adoption program, where volunteers say she won the hearts of everyone who met her.
The shelter's board of directors is now worried for her safety, and hopes the public can help get Parker back to the program.
This is the first burglary the 5-year-old shelter has experienced, and directors say their next step is to invest in a business security alarm system.
Wags to Riches describes Parker as a white Staffordshire bull terrier mix, with a pink and black freckled nose and a tan eye patch.
If you have any information, or see Parker, please contact the Yakima Police Department at 509-575-6200 or Wags to Riches Animal Rescue at 509-453-4155.
The shelter is also offering a $100 reward for Parker's return or any information that helps them find her.