Success by 6 Family Food Drive: Friday, May 31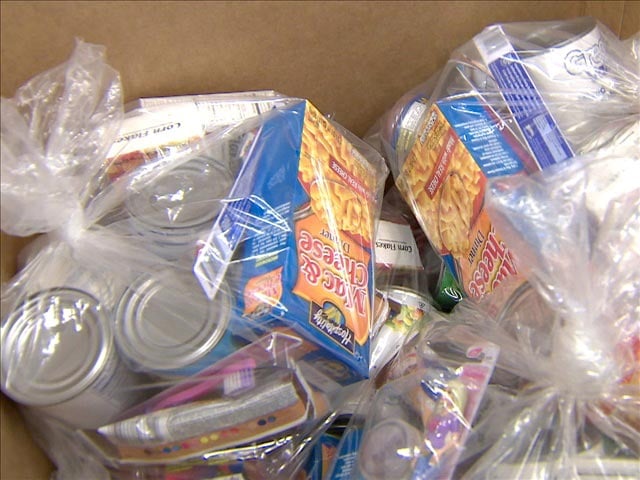 It's almost summertime, and living is supposed to be easy- but for many families in the Inland Northwest, the summer months are the most difficult time to put food on the table to feed their children. Find out why-and how you can help-by donating to the KHQ-TV Success By 6 Family Food Drive
SUCCESS BY 6 FAMILY FOOD DRIVE
FRIDAY, MAY 31ST
Peanut butter, tuna, macaroni and cheese- if you have young children, this is the menu of everyday life. But for many parents in the Inland Northwest, feeding the family the most basic of meals in these tough economic times has become increasingly more difficult.
KHQ TV-along with our Success By 6 sponsors American Family Insurance, the Hometown Chevy dealers and our grocery sponsor Yoke's are gearing up for the Success By 6 Family Food Drive coming up on Friday, May 31st.
The Success By 6 Family Food Drive takes place in the spring to accommodate the tremendous need for food for families in the upcoming summer months.
Many families who use the food banks also rely on the schools' hot lunch program to help feed hungry kids during the school year. Once school is out, the food banks, pantries and meal programs see a huge increase in the number of people using their services and the amount of supplies needed.
Businesses and families, service groups and individuals are all invited to bring in donations to the food drive at these locations:
Yoke's Stores
North Foothills Drive
Indian Trail
Mead
Airway Heights
Argonne
Deer Park
Additional Locations:
American Family Insurance 44th & Regal - South Hill, Spokane, Washington
Triple Play Family Fun Park - Hayden, Idaho
Any Hometown Chevy Dealer
Camp Chevrolet - Spokane, Washington

Appleway Chevrolet - Spokane, Washington

Chipman & Taylor Chevrolet- Pullman, Washington

Kendall Chevrolet - Lewiston, Idaho

Knudtsen Chevrolet - Post Falls, Idaho

If you would like more information on how your school or community organization can get involved in the food drive, contact : KHQ Community Affairs Coordinator, Paula Salzano at 448-4607 or e-mail Paula Salzano at paula.salzano@khq.com