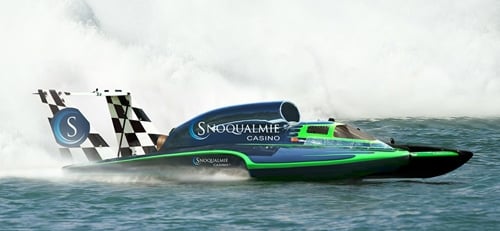 From H1 Unlimited
MAPLE VALLEY, Wash. -- GoFastTurnLeft Racing owners Greg and Brian O'Farrell have announced plans to campaign a second boat at the 2013 Albert Lee Cup at Seafair on Seattle's Lake Washington the first weekend in August.
In addition to the 21 Albert Lee Appliance, driven by Brian Perkins, the team will enter the
48 Snoqualmie Casino driven by rookie Jamie Nilsen.
GFTL's 48 hull sports a bright new blue and green livery and sponsorship from the Snoqualmie Casino East of Seattle. It was the first boat owned by the team, purchased from Leland Unlimited and campaigned as the U-48 Lakeridge Paving in 2007.