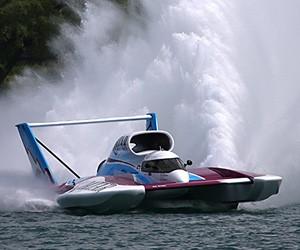 Dave Villwock will drive no more for Ellstrom Racing. Monday night H1 Unlimited and U-96 Ellstrom Racing confirmed Villwock's departure on their social media pages. Earlier Monday Hydro News reported Villwock told a source at Moses Lake's Solar Cup he would not race in 2013.
"Dave Villwock has retired from our team. We had a great run together and celebrated many victories together. We are not aware of his future plans, but we wish him nothing but the best
in his future endeavors," U-96 Ellstrom Racing posted on its Facebook page, quoting Erick Ellstrom. "We will have more to say about our future plans when we know the schedule for completion of repairs to the 96."
Villwock owns 11 national titles and 67 career wins.