Clutch Hitting Leads Tri-City to Win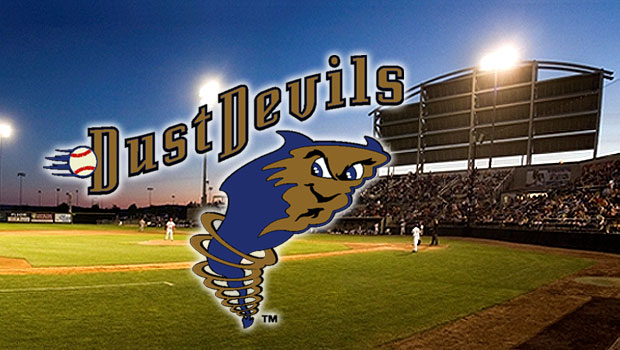 From Tri-City Dust Devils
PASCO, Wash. - After out-hitting the Vancouver Canadians and taking the loss Friday night, the Tri-City Dust Devils returned the favor Saturday night, defeating the Canadians 4-3. Tri-City was out-hit 10-4 on the night and secured manager Drew Saylor's first career managerial victory in front of 3,374 fans at Gesa Stadium. The win is the first of the season for the Dust Devils, who knotted up their season-opening series with Vancouver at a game apiece.
The Dust Devils (1-1) got off to a rocky start, with starting pitcher Jayson Aquino allowing two first-inning Vancouver (1-1) runs. Aquino settled down after the first, but continued to face difficult situations with runners in scoring position throughout his outing. Despite the trouble, Aquino finished his Tri-City debut allowing just the two runs over five innings on eight hits while walking one and striking out two.
Tri-City's bats answered the call for Aquino, scoring two runs in the fifth and sixth innings to put them in the lead for the first time in 2013. Back-to-back two-out run-scoring doubles from outfielders Jose Monzon and Sean Dwyer gave the Dust Devils their third and fourth runs of the game and the 4-2 lead. Dust Devils reliever Carlos Estevez (1-0) was stellar out of the bullpen, allowing one run on two hits while striking out four over three innings. Righty Trent Blank (Sv, 1) followed Estevez and worked a 1-2-3 ninth, securing the victory.
Vancouver starter Kyle Anderson pitched well, matching Aquino and allowing two runs over five innings. Reliever Justin James (0-1) took the loss for the Canadians, allowing the two Dust Devils runs in the sixth inning.
The series finale between the Dust Devils and Canadians is Sunday night at Gesa Stadium in the rubber-match of the three-game season-opening series. Sunday night is also Dollars in Your Dog Night at the ballpark thanks to Cascade Natural Gas, meaning every hot dog purchased at the stadium has a chance to have cash included with it. Right-hander Johendi Jiminian gets the start on the mound for the Dust Devils while righty Jeremy Gabryszwski will toe the rubber for the Canadians, with first pitch at 7:15 p.m.