Americans Announce 2013-14 Regular Season Schedule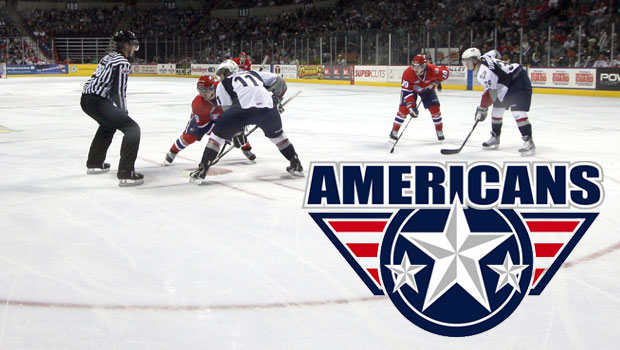 KENNEWICK, WA – The Tri-City Americans, in conjunction with the Western Hockey League, announced today their regular season schedule for the upcoming 2013-14 season, their 26th season in the Mid-Columbia.
For a sixth consecutive season, the Americans will start the season at home, as Tri-City will host the arch rival Spokane Chiefs at the Toyota Center on Saturday, September 21. It also marks the fourth straight season that the Americans will open a season with two consecutive home games, as they host the Prince George Cougars on Sunday, September 22.
Of the 26 weekend home games, Tri-City will play 13 on Friday, 10 on Saturday and 3 on Sunday. Tri-City's schedule is also equally balanced this season, with 36 games both before and after the nine-day Winter Break, slated to run from December 18 through December 26.
In division play, the Americans will go head-to-head with the Spokane Chiefs 12 times (six home and six away), including 8 match-ups after the Winter Break. Tri-City will also play the Portland Winterhawks and Seattle Thunderbirds 10 times while facing off against the Everett Silvertips 8 times. Tri-City will play their B.C. Division counterparts (Kamloops, Kelowna, Prince George, Vancouver and Victoria) four times each (two home, two away).

This year's schedule has Tri-City hosting all six East Division opponents (Brandon, Moose Jaw, Prince Albert, Regina, Saskatoon and Swift Current) throughout the season. Meanwhile, the Americans' trip through the Central Division will be broken up into two trips, one at the beginning of November (Nov. 1 @ Medicine Hat, Nov. 2 @ Lethbridge and Nov. 3 @ Kootenay) and the other in late January (Jan. 29 @ Calgary, Jan. 31 @ Edmonton and Feb. 1 @ Red Deer).


Home Schedule Highlights:
26 home games scheduled for Friday-Saturday-Sunday
18 game before and 18 games following the Winter Break
25th Annual New Year's Eve game on Tuesday, December 31 vs. Spokane Chiefs
Game Times:
Monday - Saturday: 7:05 PM
Sundays: 5:05 PM
The entire 2013-14 exhibition and regular season schedules can now be found on the Americans' website at www.AmsHockey.com.
Tickets for individual games are tentatively set to go on sale to the public on Monday, August 19th at 10:00 AM. Ticket packages for the 2013-14 season are on sale now through the Americans office by calling (509) 736-0606.
2013-14 Regular Season Schedule
September
Saturday, September 21 vs. Spokane
Sunday, September 22 vs. Prince George
Tuesday, September 24 @ Portland
Friday, September 27 @ Seattle
Saturday, September 28 @ Spokane
October
Tuesday, October 1 vs. Seattle
Friday, October 4 @ Everett
Sunday, October 6 @ Victoria
Tuesday, October 8 @ Kamloops
Friday, October 11 vs. Kamloops
Saturday, October 12 @ Seattle
Wednesday, October 16 @ Portland
Friday, October 18 vs. Victoria
Saturday, October 19 vs. Portland
Tuesday, October 22 vs. Swift Current
Friday, October 25 vs. Seattle
Saturday, October 26 vs. Brandon
November
Friday, November 1 @ Medicine Hat
Saturday, November 2 @ Lethbridge
Sunday, November 3 @ Kootenay
Wednesday, November 6 @ Portland
Friday, November 8 @ Everett
Saturday, November 9 vs. Everett
Friday, November 15 vs. Regina
Saturday, November 16 @ Vancouver
Tuesday, November 19 vs. Vancouver
Friday, November 22 vs. Kelowna
Saturday, November 23 @ Spokane
Friday, November 29 vs. Victoria
Saturday, November 30 vs. Spokane
December
Tuesday, December 3 vs. Saskatoon
Friday, December 6 @ Prince George
Saturday, December 7 @ Prince George
Tuesday, December 10 vs. Seattle
Friday, December 13 vs. Prince George
Tuesday, December 17 @ Seattle
Friday, December 27 vs. Portland
Saturday, December 28 @ Portland
Tuesday, December 31 vs. Spokane
January
Friday, January 3 vs. Portland
Sunday, January 5 @ Vancouver
Tuesday, January 7 vs. Kamloops
Friday, January 10 @ Everett
Saturday, January 11 vs. Everett
Friday, January 17 @ Seattle
Saturday, January 18 vs. Spokane
Sunday, January 19 vs. Vancouver
Wednesday, January 22 vs. Moose Jaw
Friday, January 24 vs. Seattle
Saturday, January 25 @ Spokane
Wednesday, January 29 @ Calgary
Friday, January 31 @ Edmonton
February
Saturday, February 1 @ Red Deer
Friday, February 7 vs. Portland
Saturday, February 8 vs. Spokane
Monday, February 10 @ Kamloops
Wednesday, February 12 @ Victoria
Friday, February 14 @ Seattle
Saturday, February 15 @ Spokane
Wednesday, February 19 @ Kelowna
Friday, February 21 vs. Prince Albert
Saturday, February 22 vs. Everett
Wednesday, February 26 vs. Kelowna
Friday, February 28 @ Everett
March
Saturday, March 1 @ Spokane
Wednesday, March 5 vs. Portland
Friday, March 7 vs. Everett
Saturday, March 8 @ Kelowna
Tuesday, March 11 @ Portland
Friday, March 14 @ Spokane
Saturday, March 15 vs. Spokane
Sunday, March 16 vs. Seattle