Dust Devils Go Down in Extras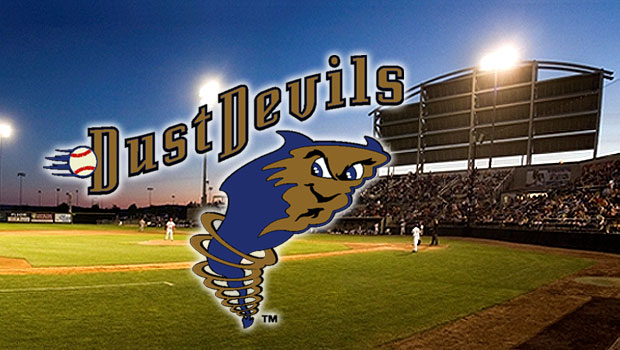 From Tri-City Dust Devils
The first extra-inning game at Gesa Stadium in 2013 couldn't turn the Tri-City Dust Devils' luck around Thursday night, as the Dust Devils lost the third and final game of their series against the Everett AquaSox 3-2. The 2,392 fans in attendance got their money's worth, but the Dust Devils couldn't make the most of their opportunities and earn the win.
Right-hander Ryan Warner, who started on the mound for Tri-City (5-9), had his best performance of the season. Warner threw five innings and allowed two runs, one earned, on six hits while striking out three and walking one. Relievers Matt Pierpont and Jerad McCrummen followed Warner, combining to throw four shutout innings. Righty Huascar Brazoban (0-2) came in for the extra frames and started well, going 1-2-3 in the tenth inning and routinely throwing in the mid-to-upper 90s. But in the 11th, with a runner on third due to a fielding error by shortstop Alec Mehrten, Brazoban threw a wild pitch and the AquaSox (12-2) gained the lead for good.
Mehrten continued to lead the way for the Dust Devils at the plate, going 3-for-4 with a run batted in and improving his season batting average to .361. Leftfielder Mike Tauchman also went 3-for-4 on the night with a run scored.
Everett starting pitcher Tyler Olson matched Warner's quality start with a good one of his own, allowing two runs over 6 1/3 innings pitched. Reliever Ricardo Pereira (1-1) earned the win for the AquaSox, throwing three shutout innings.
The Dust Devils will travel to Vancouver to begin a three game series with the Canadians Friday night and return to Gesa Stadium on Monday, July 1st to take on the Spokane Indians in a three-game set.