Indians Beat the Heat, Dust Devils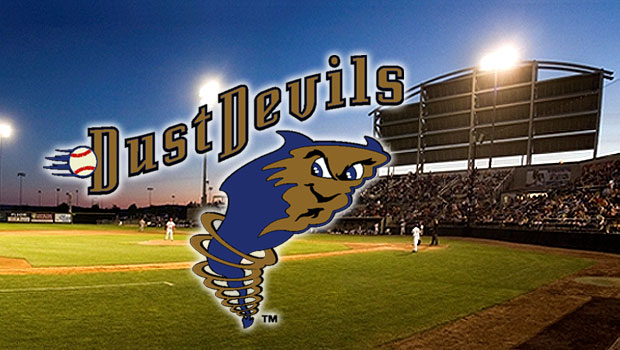 From Tri-City Dust Devils
The Tri-City Dust Devils couldn't handle the Spokane Indians Monday night at Gesa Stadium, losing the series opener 3-1. The Dust Devils' offense, which has been struggling of late, couldn't use the 106 degree heat at first pitch to spark a turnaround as they dropped their first game of the season against their Highway 395 rivals.
Dust Devils (6-12) starting pitcher Johendi Jiminian (0-2) started off as hot as the temperature at Gesa Stadium, striking out the side in the first inning. But the Indians' (8-10) bats would figure Jiminian out throughout the game and tally three runs off of eight hits over five innings. Reliever Marc Magliaro came in for Jiminian in the sixth inning and worked two shutout innings. He was followed by Bruce Kern and Trent Daniel out of the Dust Devils' bullpen; Kern worked a perfect eighth inning and Daniel a scoreless ninth. Both pitching staffs utilized the double-play often, with Tri-City recording four and Spokane registering two.
It was a tough night at the plate for Tri-City, who scattered six hits over the nine innings. Doing most of the damage was designated hitter Wilfredo Rodriguez. Rodriguez had his best game of the season, going 3-for-4 with the lone run batted in for the Dust Devils in the game.
Lefty Yohander Mendez (1-1), who started on the mound for Spokane, earned his first win of the season. Mendez allowed one run, unearned, over five innings on three hits while striking out one and walking none. The Indians bullpen made their thin lead stick, allowing just three Dust Devils hits over the final four innings.
The second game of the three game series between the Dust Devils and Indians is Tuesday night at Gesa Stadium.