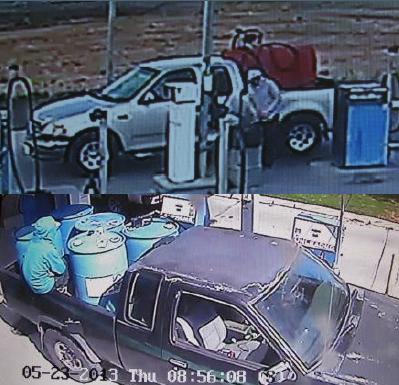 KENNEWICK, Wash. - Kennewick Police say they have arrested four people in connection with gas thefts earlier this year.
Officers say in late May, someone stole about 1,000 gallons of diesel and gasoline from three CFN fueling stations in the Kennewick, Pasco and Franklin County, using a stolen fuel card.
Police say as part of their investigation, they searched a home in Finley, and arrested some of the people involved. Mark Bates- 50-year-old Mark Bates of Finley and Pasco faces charges for identity theft. 48-year-old Daniel Bates of Finley faces charges for obstructing a public servant. Joshua Chavez- 25-year-old Joshua Chavez of Kennewick faces charges for possession of meth, and 21-year-old Sarah Reed, who is a police say is a transient, faces charges for failing to appear in court.
Pasco and Kennewick Police say they continue to work on this case. Officers say they have identified a white van, but the two other vehicles in these pictures and the people inside them are still unknown.
If you have any information, call Crimestoppers at 586-TIPS or 1-800-222-TIPS.