A Wounded Veteran Plans to Run Race Despite Severe Injuries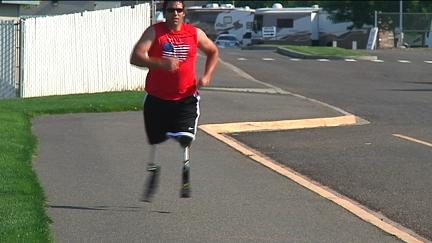 PASCO, Wash. - Joshua Elliott, 31, was nearly killed when he stepped on an improvised explosive device, while serving in Afghanistan back in 2011.
"It threw me directly up in the air and I dropped straight back down through the whole in the roof that the bomb had made," said Elliott.

The Yakima man lost both his legs, three of his fingers and suffered several shrapnel wounds. Still, Elliot says he's just thankful he was given a second chance at life.
"There's a feeling I get about being alive today that doesn't--that I don't want to waste that --I don't want to go a single day without making a difference," said Elliott.

The Marine veteran, who's always been active, doesn't let his injuries keep him from doing things either. You can often catch him hiking, climbing, skiing and running thanks to his prosthetic legs and hand.

"I have to find new ways to overcome which is the challenge of my life and I take it head on, said Elliott.

And come this Fourth of July, Elliott plans to run his first full mile during the Camp Patriot Fun Run. It's something Elliott has never done since he was injured, but he's determined to do whatever it takes to cross the finish line.

"I can do it---one way or another, I'll crawl to the end if i have to," joked Elliott.
The Camp Patriot Fun Run is Thursday, July 4th beginning at 7:30 a.m. at the Pasco Softball Complex, located at 6520 Homerun Drive in Pasco. Proceeds help support Camp Patriot, whose mission is to support wounded veterans.