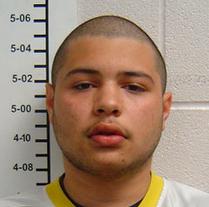 OTHELLO, Wash. - Grant County Sheriff Deputies say law enforcement officers in Othello have arrested a man wanted two counts of assault.
Members of the U.S. Marshal's Pacific Northwest Violent Offender Task Force, Othello Police and Adams County Sheriff's Office found and arrested 19-year-old Ramon O. Morfin at an apartment complex Friday morning.
Deputies say Morfin shot and wounded two men at a Warden apartment back in June.