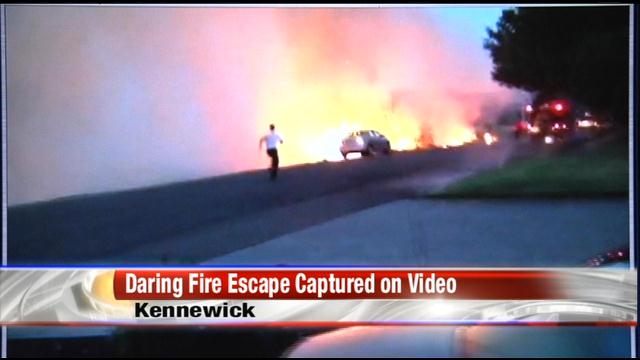 KENNEWICK, Wash. -- Fireworks are believed to be responsible for a fire in Kennewick Friday night.
Firefighters had the fire in Zintel Canyon under control in about in a hour.

Kennewick Police say the fire started at the bottom of Zintel Canyon, and quickly burned up the west side of the canyon. Eventually, the flames worked their way up the canyon, near South Conway Street.
Witnesses tell NBC Right Now they reported fireworks being set off in the canyon right before the fire started. Neighbors said they called 9-1-1 just after 9pm after they heard a loud boom.

"It got really, really bad. I called 911 and I started going, me and him, started going to every single house to knock on doors and let people know that there's a fire and they're in danger and it was getting bigger and bigger by seconds," said Suhad Woods, who called 9-1-1.
No homes were damaged in the fire, but police say the flames scorched part of a car. Luckily, the car was moved just in time.

Kennewick Fire Department and Benton County Fire District 1 responded. KPD and Benton County Sheriff's deputies were also on the scene.
10th Avenue between Ely Street and West 8th Place in Kennewick was closed off while firefighters got the flames under control.