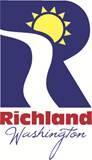 RICHLAND, Wash., -- The City of Richland Energy Services is upgrading an electrical substation off of Robertson Drive and SR-240 with a device that will use controlled detonations.
The detonations are scheduled for late Tuesday morning but could happen at another time during the week if there are problems. They'll sound like a large firework or shotgun and may be heard within a short distance in the area of the substation.
The city is upgrading high voltage transmission lines with a device used to install splices on the lines called an implosive sleeve connector. The splices will fuse the wires together, making for a better connection. This upgrade will improve the reliability and the lifespan of the lines.