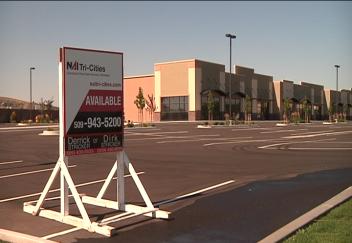 KENNEWICK, Wash., -- Construction is complete on a 25,000 square foot retail center on south Quillan Street in Kennewick.
The new building sits on an 8.5 acre parcel across from Wal-Mart, near the intersection of Highway 395 and 27th Avenue. Four acres in front of the strip center will be developed in the future.
Local investment group FC4 LLC oversaw the project and served as general contractor, and Jason Archibald of ALD Architects designed the center.

"Nothing else is really planned in stone right now to be another retail space or an office space that someone could take advantage in this South Kennewick/Southridge blossoming area," says Derrick Stricker, a broker with NAI Tri-Cities. "So right now it's ready to go, it's priced right and we're looking to make some deals happen!"
Nine spaces have a variety of potential uses such as offices, restaurants, retail shops or gyms. Lease prices range from $13 to $15 per square foot, triple net, and build-to-suit options are available.
Read about more new buildings at TriCitiesBusinessNews.com.