Columbia Basin Railroad Delivers First Unit Train of Canola Seed to Warden
Posted:
Updated:
Claire Graham, KHQ Local News Anchor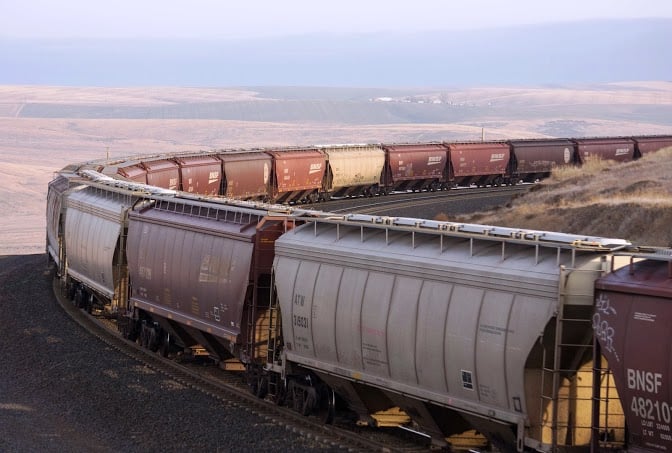 YAKIMA, WA - Columbia Basin Railroad has delivered the first unit train of canola seed for Pacific Coast Canola (PCC) to Warden Washington.
The unit train traveled approximately 1,350 miles from the Northern Plains region of the U.S. To the PCC facility in Warden, Washington. The train and locomotives including its cargo of canola seed weighed 33 million pounds.
This train along with future trains delivering canola seed to Warden marks the beginning of a cooperative effort between PCC, Columbia Basin Railroad (CBRR), Burlington Northern Santa Fe (BNSF) Railway and the Port of Warden.
PCC's Canola crushing and oil refining facility at the Port of Warden in Washington State is the first and only commercial-scale canola seed crushing operation west of the Rocky Mountains, and is only one of two canola processing plants in North America using expeller-press technology.
CBRR says given the Port of Warden's central location on the Columbia Basin Railroad line and its close proximity to Interstate 90 in the heart of a multi-state region, ideal for canola production, the PCC facility is well positioned to supply the expanding demand for canola products on the West Coast of the United States.
The plant has a processing capacity of 1,100 MT of canola seed per day, which represents approximately 40,000,000 gallons of canola oil and 240,500 US Tons of canola meal per year.
"Having the ability to now bring in Unit Trains into Warden on the Columbia Basin Railroad line to service companies such as Pacific Coast Canola is helping to establish the Port of Warden as a key location in Eastern Washington to handle freight and it is pivotal for our economic development and will provide low cost options which are critical for companies to competitively ship their goods to and from Warden," said Dale Pomeroy, Commissioner, Port of Warden.
This first unit train shipment is the culmination of efforts that began in 2005 when a site at the Port of Warden (on the Columbia Basin Railroad line) was identified for a bio-diesel facility, and then evolved into a canola seed crushing plant which produces canola oil. The plant began producing canola oil in January of 2013, but has ramped up production in the second quarter by receiving single railcars of canola seed from last year's crop along with some truck deliveries.
The 2013 crop started to move in September and volumes by rail have steadily increased through September, October and November.
In addition to the track Pacific Coast Canola (PCC) leases from Columbia Basin Railroad to accommodate unloading of up to 110 car trains, PCC has built several long rail sidings in Warden. 110 railcars will supply the plant enough canola seed for about 10 days at full production.
Brig Temple, President of the Columbia Basin Railroad said, "This initial unit train of canola seed adds to the many trains that the Columbia Basin Railroad hauls to/from Washington State, and would not have been possible without the tremendous cooperation of BNSF Railway, the Port of Warden and Pacific Coast Canola."
Columbia Basin Railroad (CBRR) is a locally owned and operated short-line railroad headquartered in Yakima, Washington. Founded in 1986 by the Temple Family, CBRR has a long and successful history of operating rail lines in Washington State and operates the following rail lines:
· Columbia Basin Railroad: Moses Lake-Wheeler-Schrag-Warden-Bruce-Othello-Connell;
· Central Washington Railroad: Yakima-Moxee-Toppenish-Granger-Sunnyside-Grandview-Prosser.
CBRR hauls over 10,000 carloads of various agricultural and other commodities and cargo to/from the region for 56 active rail shippers. More importantly, the various shippers/companies that haul cargo on Columbia Basin Railroad employ nearly 7,000 people in Washington State.
In 2008, CBRR was recognized as the "Shortline Railroad of the Year" by Burlington Northern Santa Fe (BNSF) Railway.