Richland Police Look for One of Two Men Involved in Shooting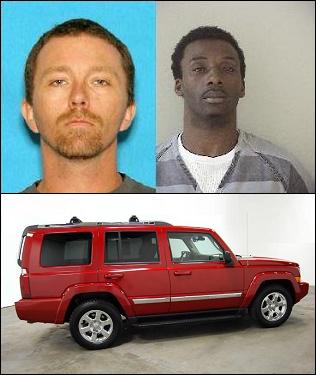 UPDATE: RICHLAND, WA - Richland Police say a man involved in the shooting turned himself in, but police let him go the same day.
Police say Lowell Singleton walked into the police station for questioning on Thursday afternoon. However, officers didn't arrest him.
Police say the investigation will need to uncover more information about Singleton's involvement in the shooting to file any charges.
Officers are still looking for James Leroy Davis III.
PREVIOUS COVERAGE:
RICHLAND, WA - Richland police are looking for a man involved in a shooting Wednesday night at a mobile home park in the Queensgate area.
At 9:20pm on the 100 block of Bitterroot Drive, police say 28-year-old James Leroy Davis III and 37-year-old Lowell L. Singleton were in a maroon Jeep Commander when they stopped by a Ford Explorer and started to argue with the three passengers.
Police say Davis got out of the car and started shooting at the Explorer with a rifle, firing off nearly 20 rounds. More than a dozen bullets hit the SUV.
One passenger was grazed by a bullet on his leg, but no one was seriously injured.
Police say the Jeep Commander drove away after the shooting.
A nearby apartment complex on the 2500 block of Duportail was also hit, but no injuries were reported in the complex.
The three men in the Explorer were identified as Dominic Bailer, 35, Edward Bolt, 32, and Ricci Vogel, 39, all of Kennewick.
"When you have those flying around a neighborhood, that's an extremely hazardous situation. We're very, very fortunate somebody didn't end up shot. With all the laws of probability, one of the three people in the SUV that was the target vehicle should've been hit," said Capt. Mike Cobb, Richland Police Department.
Police are working with other local agencies to track down Davis. They ask people to call with any tips they might have about the suspect.
PREVIOUS COVERAGE
RICHLAND, WA - Richland Police are searching for at least two people who officers say were involved in a shooting at the Hills Mobile Home Park.
Police say around 9:30 Wednesday night, at least two people in a maroon Jeep pulled in front of a truck on the 100 block of Bitterroot Drive. Officers say someone inside the Jeep fired several shots at the three people sitting inside the truck. A bullet grazed the leg of one person inside the truck, but no one was seriously injured.
Police say they believe the shooting stemmed from an earlier confrontation, but officers haven't released many details.
We're working to learn more and will bring you the information as soon as we have it. to you when we do.