KHQ NW DEAL: $25 Bowling For 4 At Lilac Lanes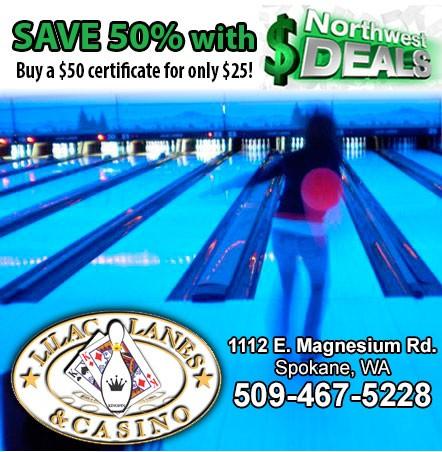 Lilac Lanes & Casino

Get Ready For
Family Night!


Each $25 certificate valid for:
(1) hour of bowling
for up to 4 people
shoe rentals
for up to 4 people
family size
nacho platter
Fun for all ages and home to over 30 lanes! There is Cosmic Bowling on Friday and Saturday nights along with a friendly Pro Shop to help answer any questions you might have! Lilac Lanes is a clean and fun place to have parties too!
Located at:

1112 E. Magnesium Road
Phone: 509-467-5228


Special for Moms

Special for Moms

More>>

Is your child sniffling, sneezing and coughing? These expert tips will help her feel better -- fast!

>>

Find out if the gross things kids do pick up germs and bacteria -- or if they're just plain icky.

>>

The stress of the season can make the most wonderful time of the year a little less so. Here, we tackle the five most common smile saboteurs and show you how to solve them.

>>

What you need to know before choosing previously loved items for your little one.

>>

A good night's rest is something we all need, including your baby. Here is a list of essentials and accessories for a baby's best sleep.

>>

The weeks immediately following the birth of your baby can be an emotional roller-coaster. You can expect to experience elation, wonder, anxiety, and at least a touch of the blues.

>>
SPOKANE, Wash. - The ratings for the 2013-2014 school year for Washington State high schools, middle schools and elementary schools came out this week from the Washington State Board of Education.

>>

SPOKANE, Wash. - The ratings for the 2013-2014 school year for Washington State high schools, middle schools and elementary schools came out this week from the Washington State Board of Education. The schools were ranked based on their average growth in math and reading of all students and specific subgroups.

>>

SPOKANE, Wash. - It's the end of another school year... marking the 27th year KHQ and Eastern Washington University have partnered together to celebrate some of the region's best teachers through the Teacher of the Month program. Congratulations... from KHQ Local News and from Eastern Washington University.

>>

SPOKANE, Wash. - It's the end of another school year... marking the 27th year KHQ and Eastern Washington University have partnered together to celebrate some of the region's best teachers through the Teacher of the Month program. Congratulations... from KHQ Local News and from Eastern Washington University.

>>

Tuition, fees, housing, books, financial aid, student loans, college savings plans. Yikes! With so many factors to consider, you might need a degree just to master the cost of attending college. For more great tips and a handy monthly budgeting worksheet, learn more from our friends at STCU.

>>

Tuition, fees, housing, books, financial aid, student loans, college savings plans. Yikes! With so many factors to consider, you might need a degree just to master the cost of attending college. For more great tips and a handy monthly budgeting worksheet, learn more from our friends at STCU.

>>

Michael Anderson Elementary on the Fairchild Air Force Base took the Challenge- so did Windsor Elementary in the Cheney School District. Their mission -to collect books for the Success By 6 Book Bank.

>>

Michael Anderson Elementary on the Fairchild Air Force Base took the Challenge- so did Windsor Elementary in the Cheney School District. Their mission -to collect books for the Success By 6 Book Bank.

>>

They say kids don't come with an instruction manual, yet parents, especially new parents are bombarded with all kinds of advice from friends and family. There are books and websites offering endless lists, tips and tricks for parenting. Jill Johnson, Communications Specialist for Family Resources at Community-Minded Enterprises and Success by 6 Board Member says you can teach your children with simple, everyday activities.

>>

Want your Preschooler to Love Learning? Let them play! Gwendolyn Haley, Spokane County Library District Youth Services Manager, and Success By 6 Board Member, says playtime is the most important part of a preschooler's day.

>>

Our Success By 6 Pediatrician, Dr. Mary Kay Wagner, host of our "Your Baby" series discusses the finer points of living with a 2 month old baby.

>>

Our Success By 6 Pediatrician, Dr. Mary Kay Wagner, gives parents an idea of what they can expect of their 4 month old baby.

>>